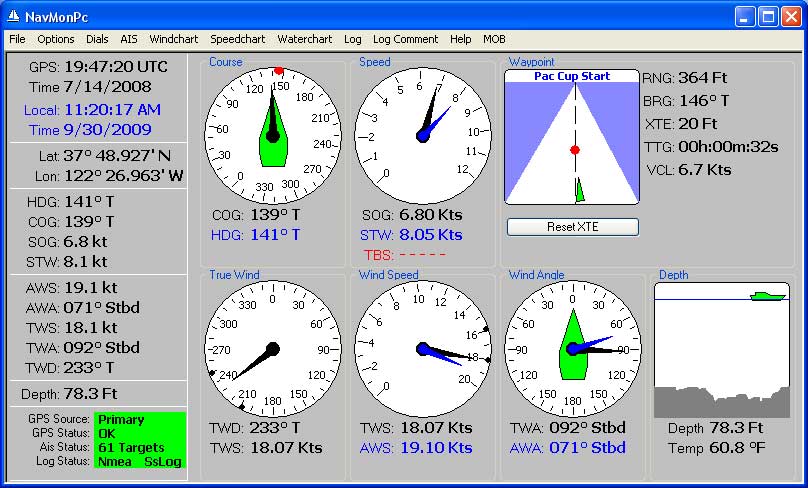 Serious Disclaimer: NavMonPc is a work in progress, and almost certainly contains bugs, errors, and omissions. It may or may not be useful to you. I make no promises that it will not cause your computer to explode, but if it does, be assured that it was accidental and I am very sorry. However, I won't be sorry enough to pay for any damages: direct, incidental, or imaginary.
NavMonPc is the sole property of Paul M. Elliott, and is offered on a limited basis free of charge for non-commercial use.
I reserve the right to change the terms of this offer at any time.
NavMonPc, Copyright 2008, 2009, 2010, 2011, 2012, Paul M. Elliott and Dirk Lison
---
NavMonPc is a Windows program for the capture, display, and playback of NMEA-0183 data. The user interface is optimized to run on a low-power, small-format "netbook" style of computer, but it will operate on any Windows-compatible machine. It is not intended to replace a chartplotter -- NavMonPc does not display standard navigational charts -- but instead this program is designed to supplement your chartplotter and provides additional features and convenient access to important navsystem data. NavMonPc features include:
Dial display of critical parameters and conditions
AIS (Automatic Identification System) decoding and target display, including flexible proximity and approach alarms
Anchor-watch alarm
Depth Alarms
Course, Heading, Speed, Wind alarms
Man Overboard alarm
Strip-chart style displays of course and speed, windspeed and direction, water depth and temperature
Concise on-screen log display
Logging to file
Flexible filtering and routing of input data
Multiple RS-232 serial interfaces, and TCP/IP network interface
Multiple "Virtual serial port" outputs of bridged / routed data for use by other programs.
NavMonPc has been tested with the Windows-XP, Vista, and Windows 7 operating systems.
To learn more, please see the (new, improved, now in PDF format) NavMonPc Users Guide.
Join the Yahoo Groups discussion group: http://tech.groups.yahoo.com/group/NavMonPc/